About the project
Unlocking No-Code Potential
I embarked on a 42-day journey to explore the world of no-code tools. I tested over 15 tools from diverse categories and came out with enhanced skills. My newfound knowledge allows me to create prototypes with speed, cost-effectiveness, and better collaboration with developers.

This experience allowed me to enhance my skill set to create prototypes more efficiently and cost-effectively for product discovery and improve my collaboration with developers.
DEVICE
No-code tools, Responsive Web Design
The problem
The overwhelming number of no-code tools: it is difficult to choose which ones to focus on and effectively compare their features.

Limited hands-on experience: Without a structured learning plan or set of projects, it can be challenging to gain meaningful hands-on experience with no-code tools.
The goal
To evaluate and select the most suitable no-code tools for a given project or purpose.

To gain hands-on experience with no-code tools through structured learning and project work.
I decided to participate in the #100DaysOfNoCode challenge to broaden my skills and explore new tools in the market.
The challenge consisted of building different projects without writing any code and using only no-code tools. Throughout this journey, I faced many challenges and learned about the possibilities and limitations of no-code tools.
The focus was less on the UI and more on the usefulness of those projects.
The first week was all about exploring different tools and getting familiar with the different mental models of building automation, databases, and forms.
I started by creating my Twitter account (as I hadn't had one since 2017) to share my learnings and get closer to the no-code community.
Then published a tweet scheduler automation that I built using Airtable.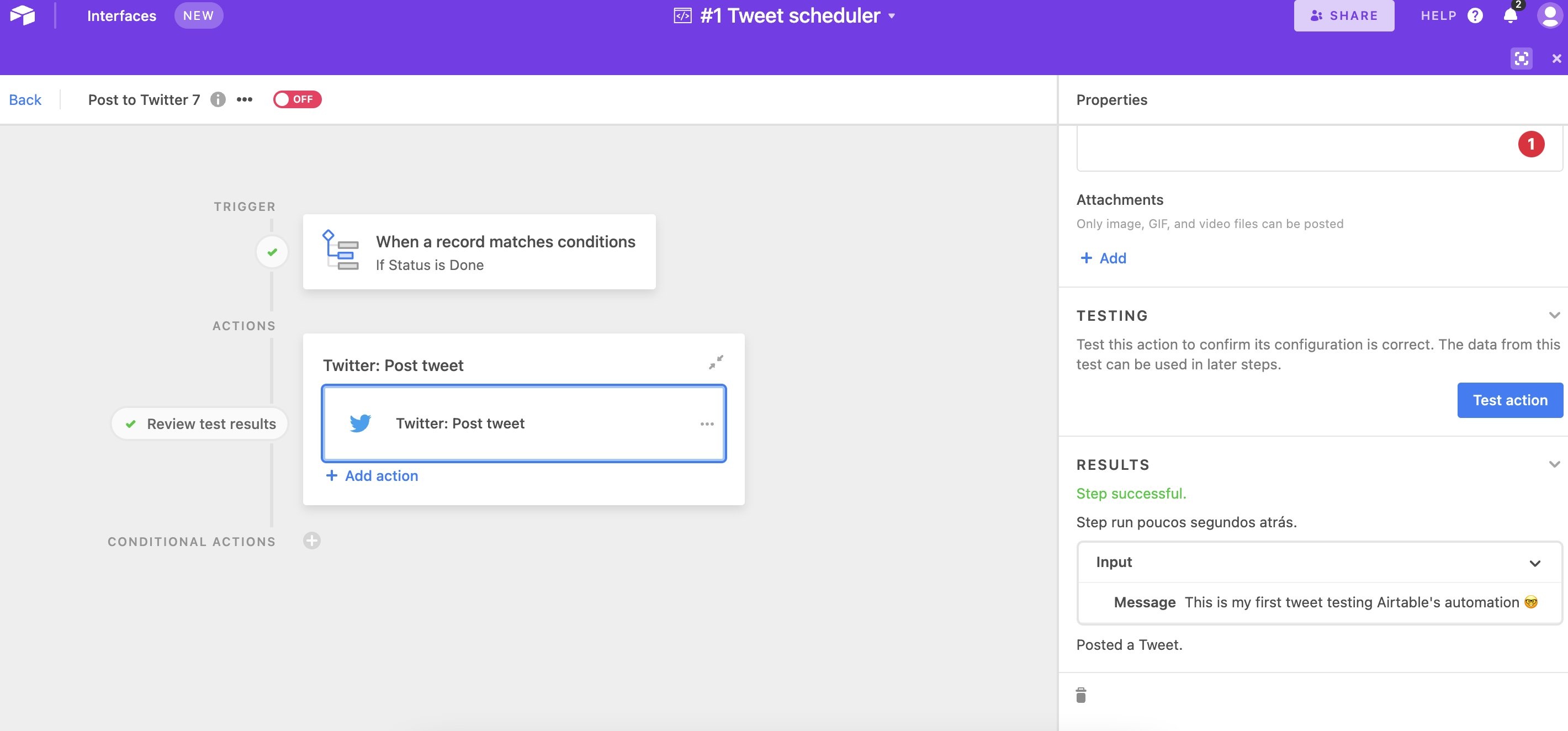 Scheduler using Airtable
I also built a journal to track my progress and a Carrd page to publicly commit to the challenge.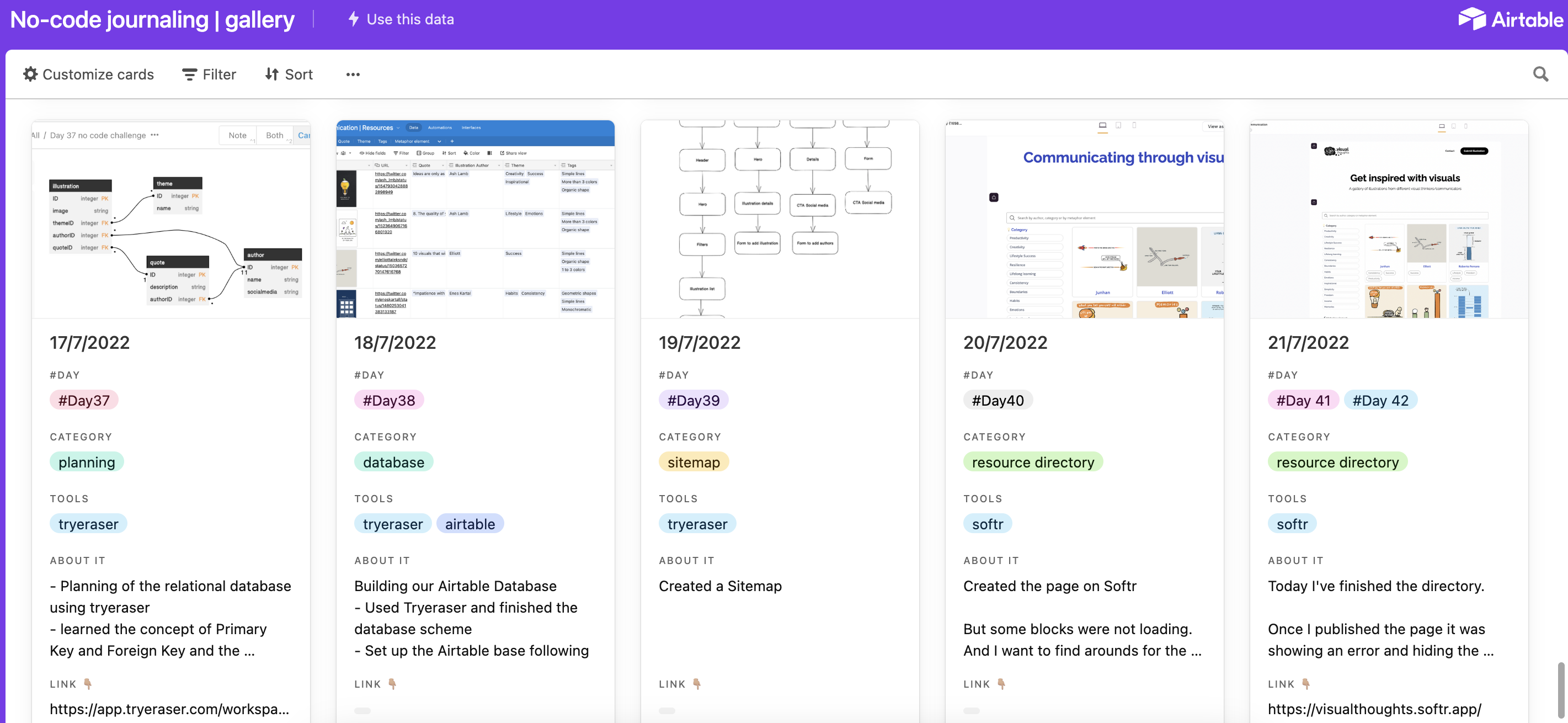 No-code journal built with Airtable
An interesting project I worked on was the automation of daily tasks using Zapier. I automated the forwarding of payment confirmation emails to my husband, to reduce this manual effort.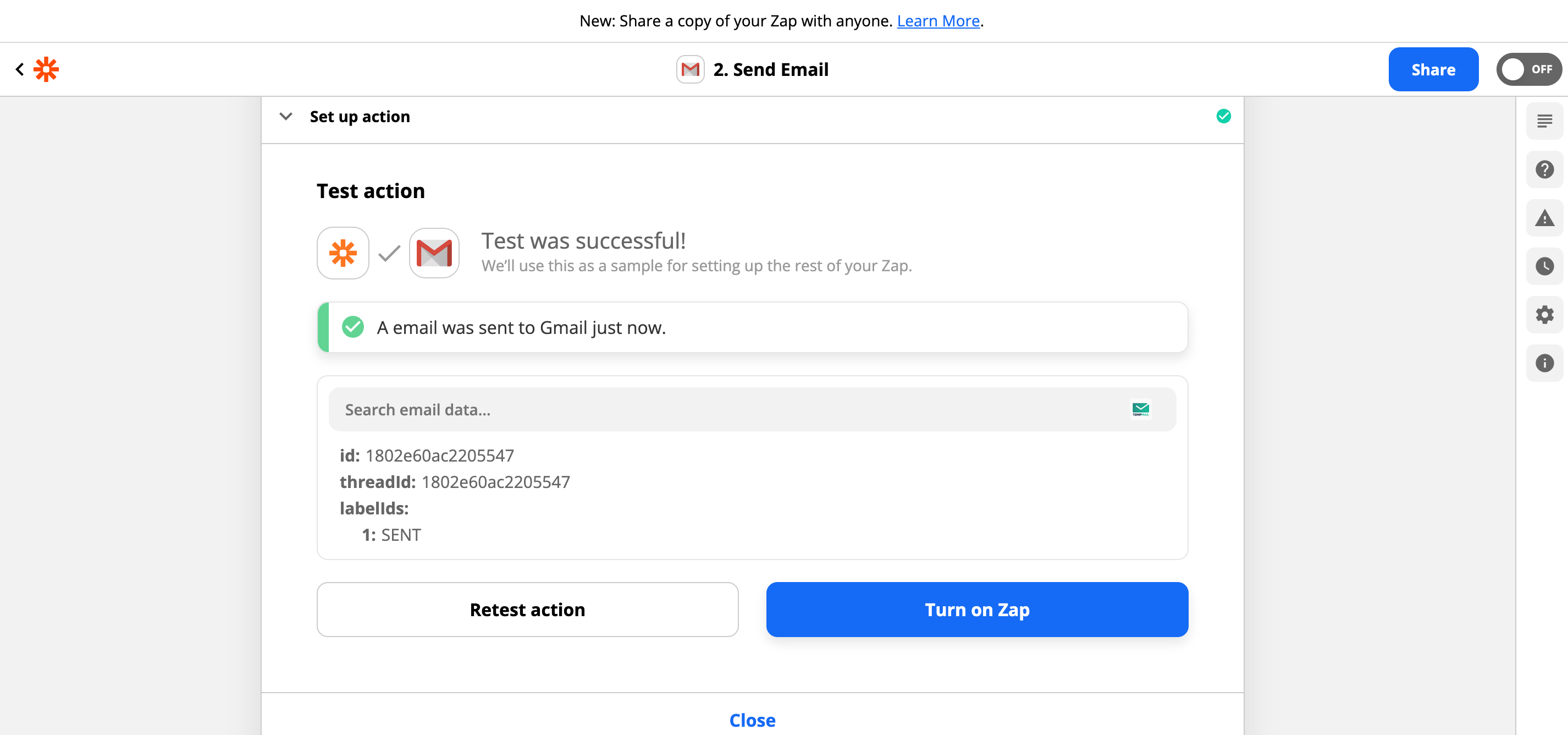 Email forwarding automation using Zapier
I also built a mini personal website using the constraint of 30 blocks of the free account on a tool called mmm landing page. It was a fun and delightful experience. I used that day's challenge to reflect on things I was enjoying learning in 2022.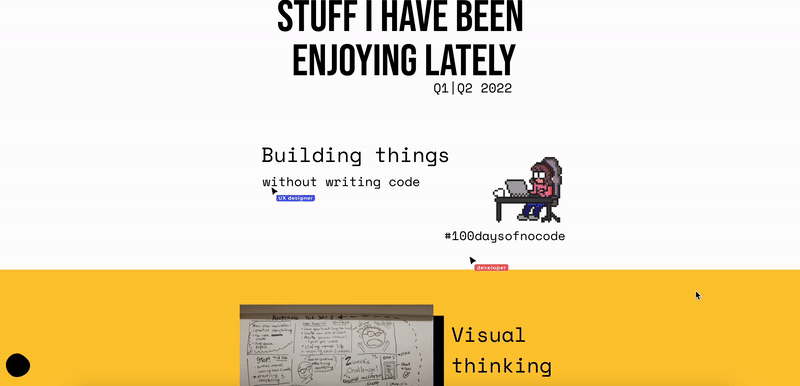 Mini personal website built using mmm.page
I was used to creating forms with conditional logic in Jotform, but this time I tested Tally.so and integrated the answers in a database of Airtable.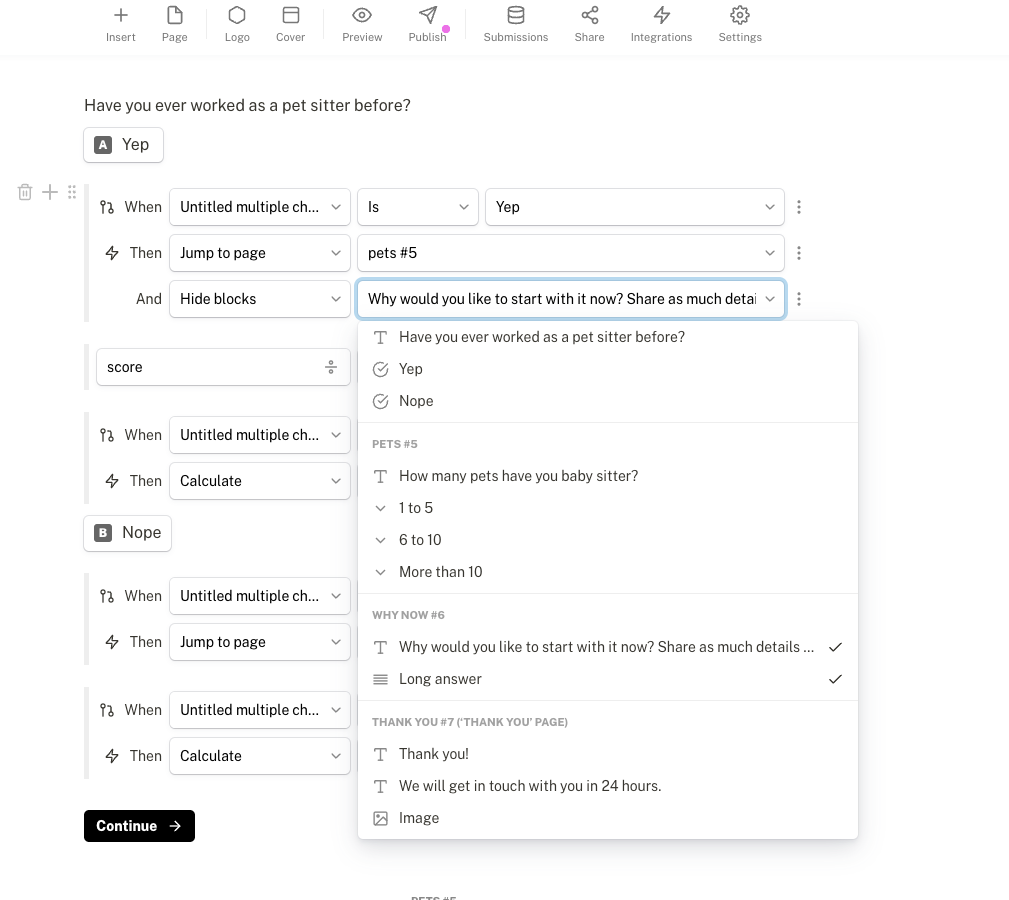 Conditional logic view of a project form using Tally
Another exciting project was creating an app using the Glide app. I have used Glide app before, but this time I decided to organize and simplify the +100 questions I have been collecting over the years. The idea was to share it and facilitate consulting it from anywhere.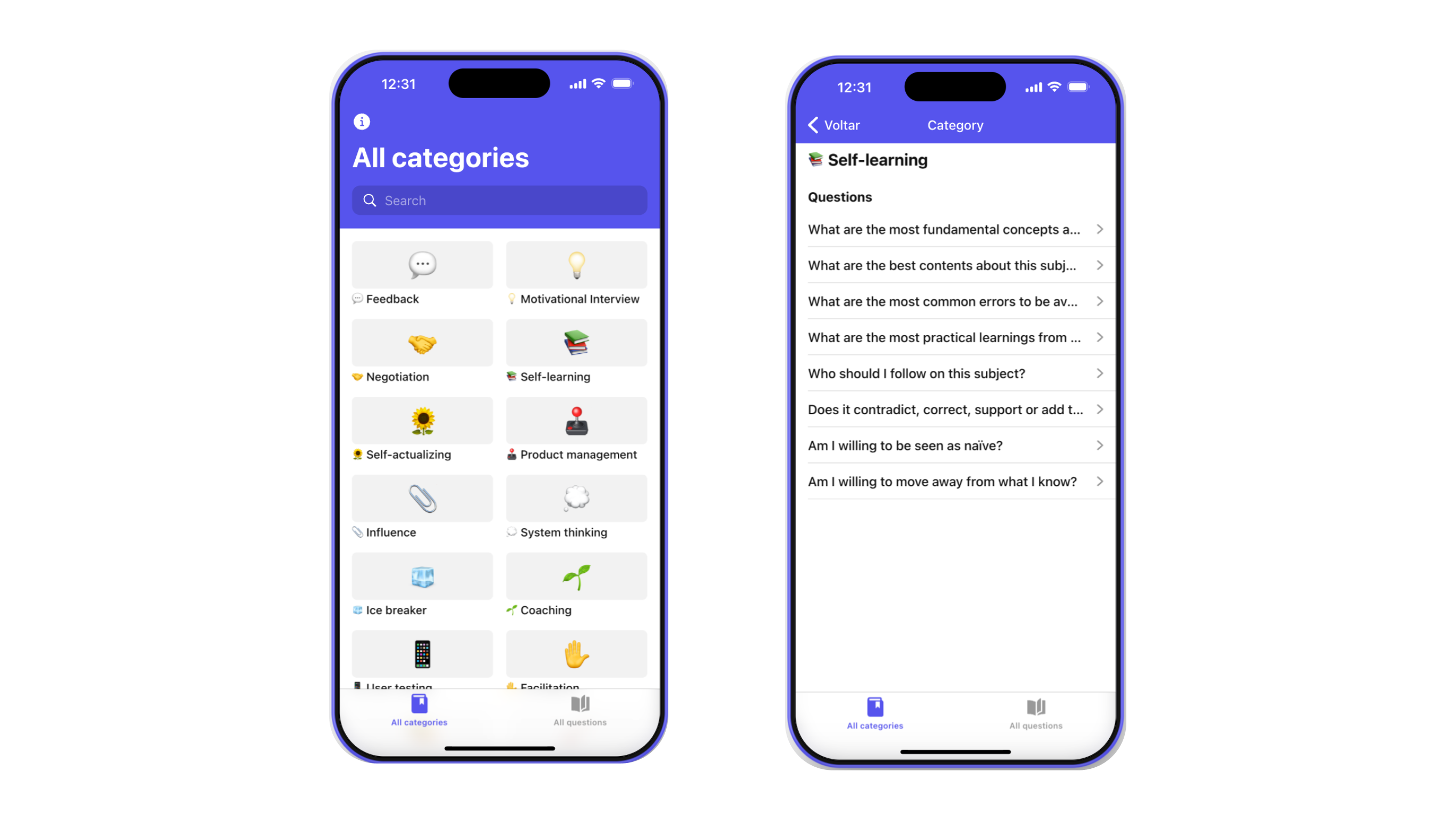 App of questions built using Glide app
Among other creations, I built a resource directory with a list and list detail page, which I integrated with Airtable and added an interactive Google Map.
The resource was about Brazilian fairs I have visited.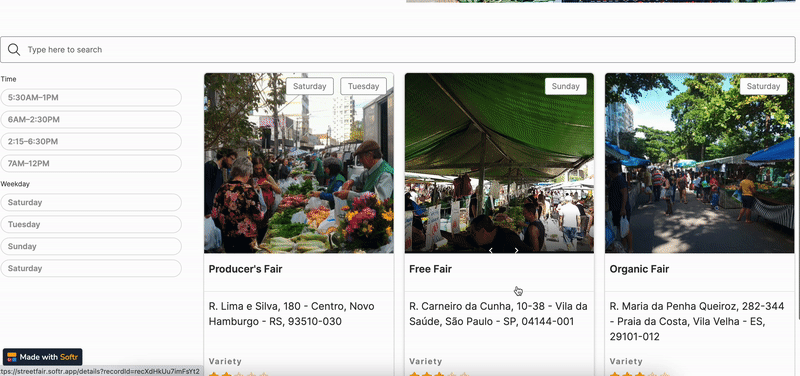 Resource directory of Brazilian fairs using Softr
Coda was such an amazing tool, and it reminded me of the needs I had as a Product Manager trying to keep track of projects aligning with various areas.
And that's what I built with it: a project tracker. I learned basic formulas to calculate prioritization, effort days and built a quick overview of the project. Then I created a button to add new tasks with pre-set values.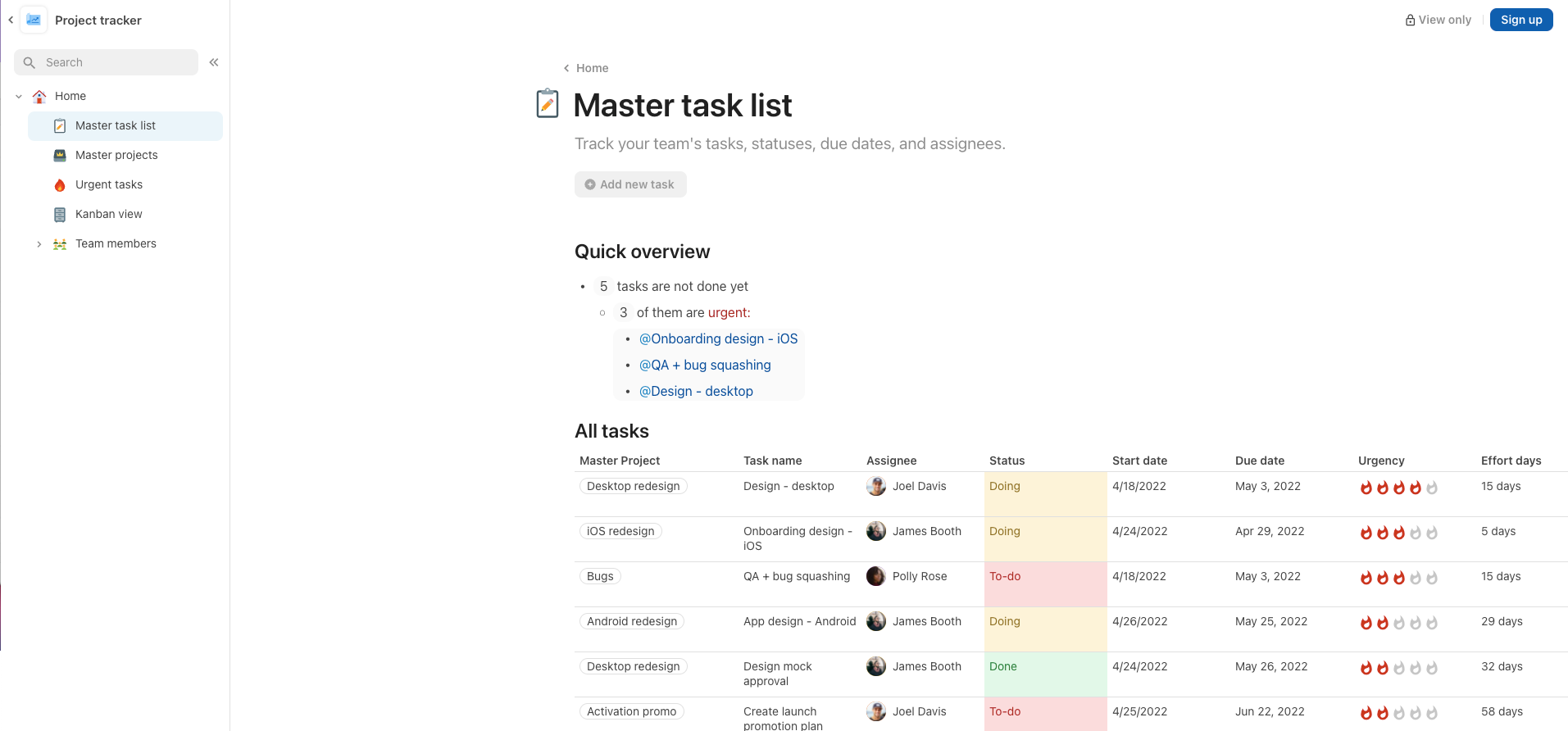 Project tracker using Coda
Coda is so versatile that I got excited to keep exploring it for quite some time.

In the same spirit of tracking projects, I built a product roadmap using Airtable to connect OKRs, projects, and weekly updates for async team. The goal was to build a centralized source of truth and to improve the overview of the projects.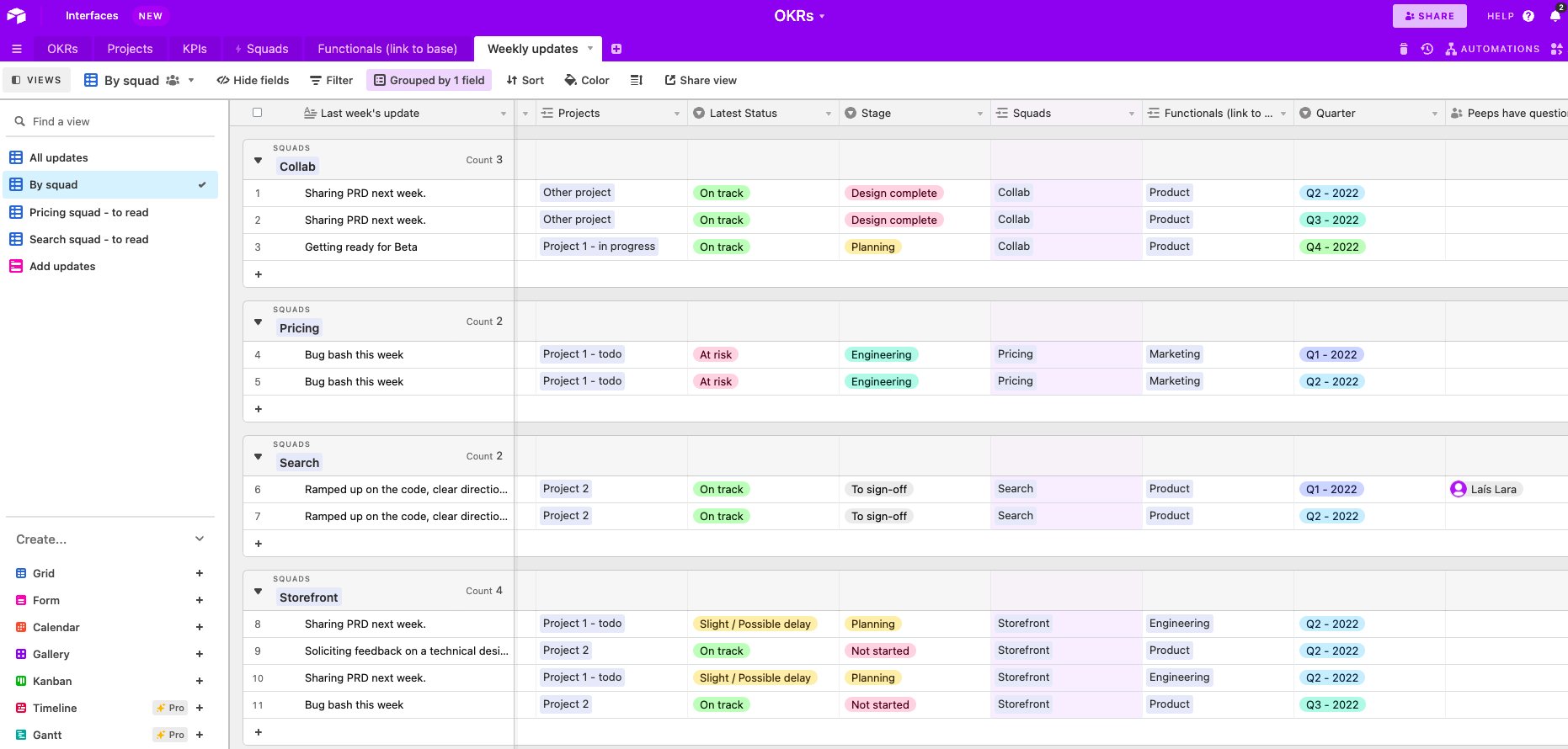 Roadmap using Airtable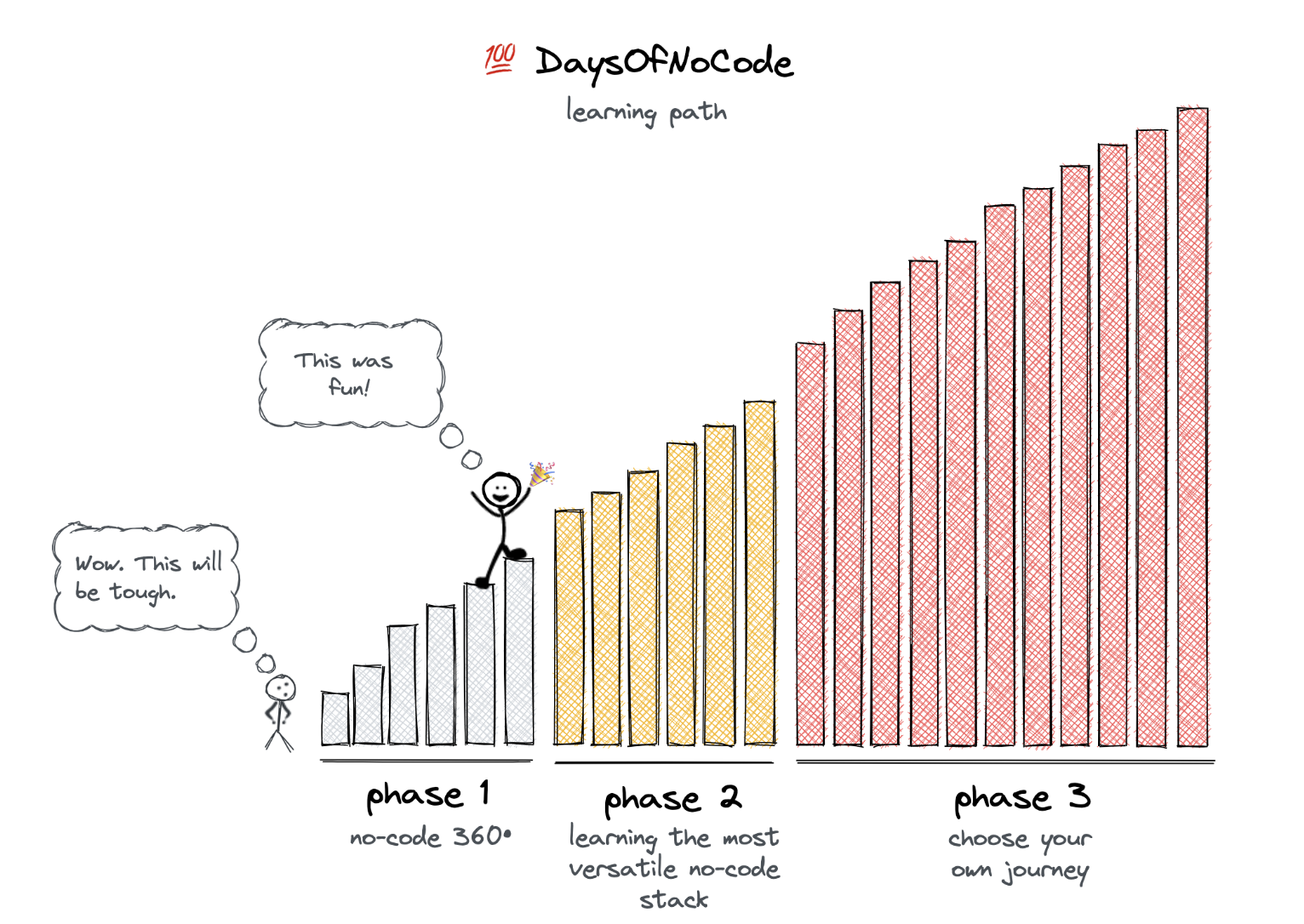 Drawing the journey using excalidraw
In the second week, I used Voiceflow to build a voice app that I could control through spoken commands. First, I tried to connect it with Airtable to enable me to set voice commands. But I received a 401 error and did not find a solution to keep using it.
To keep going, I switched to integrating with Google Sheets. I then learned how to add, retrieve, and update data using the integration.
I was amazed by the possibilities of building a conversational AI product without writing code.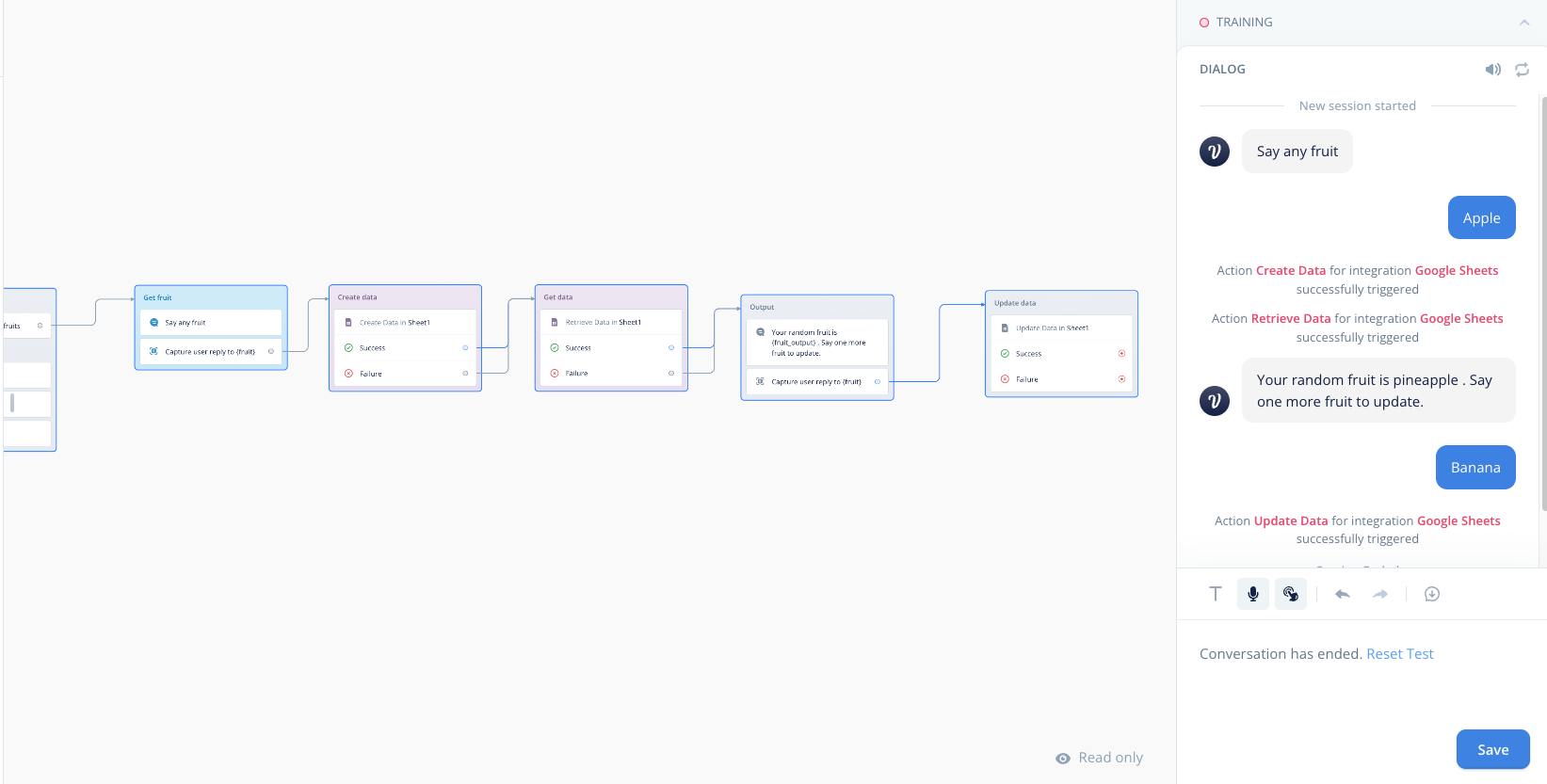 Building a voice app with Voiceflow
I decided to skip the challenge of creating a personal Wiki using Notion as I was already used it for my portfolio and habit tracker. What I did not know before was that I could customize my Notion website, so that's what I did. Using Popsy.co was a fun and straightforward tool. Here was the result of my page using only the free features.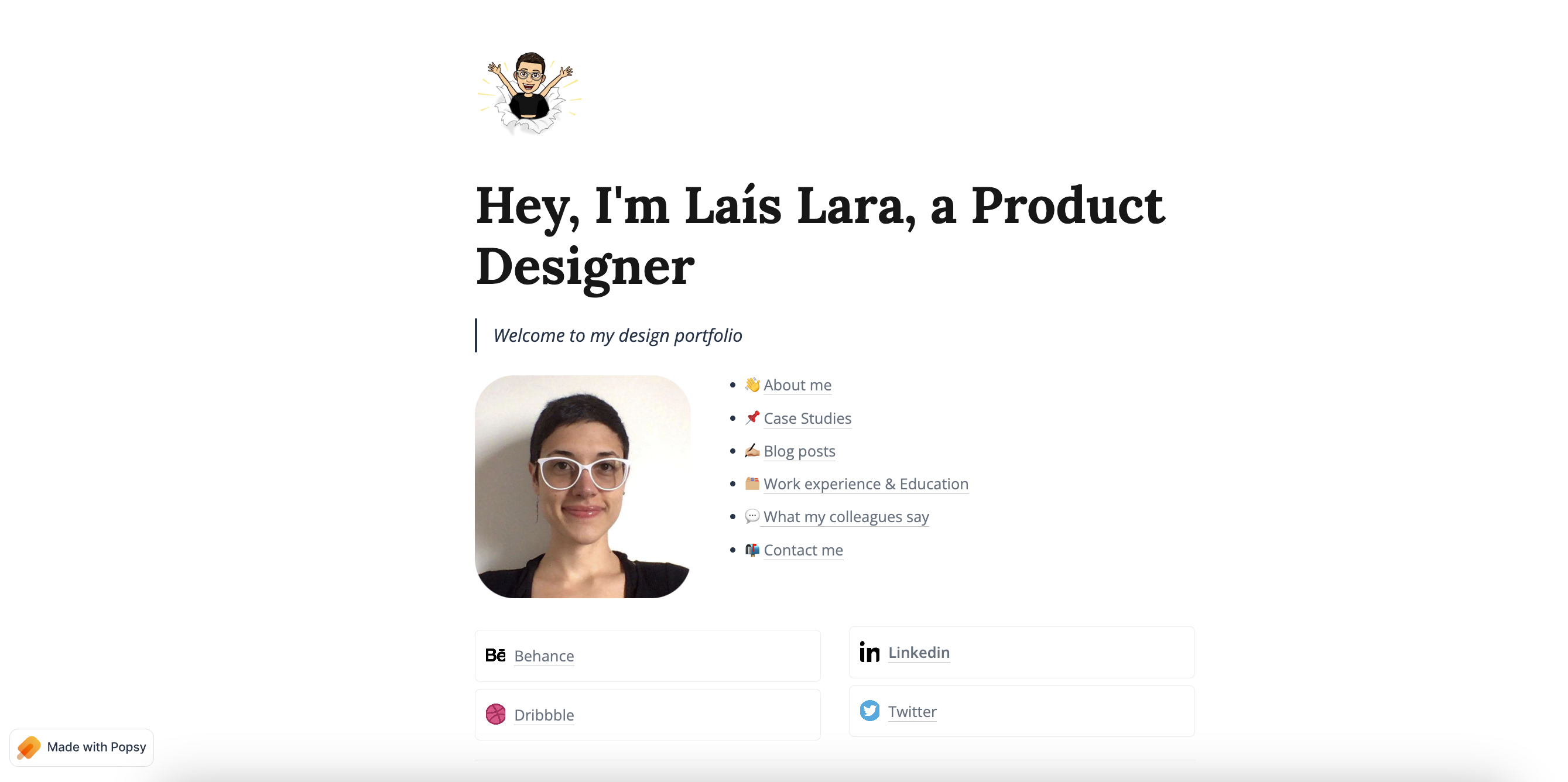 My notion page using Popsy to customize its visual
At some point, I started learning the concepts of API, and to make sense of the learnings, I created an analogy and drew it using excalidraw.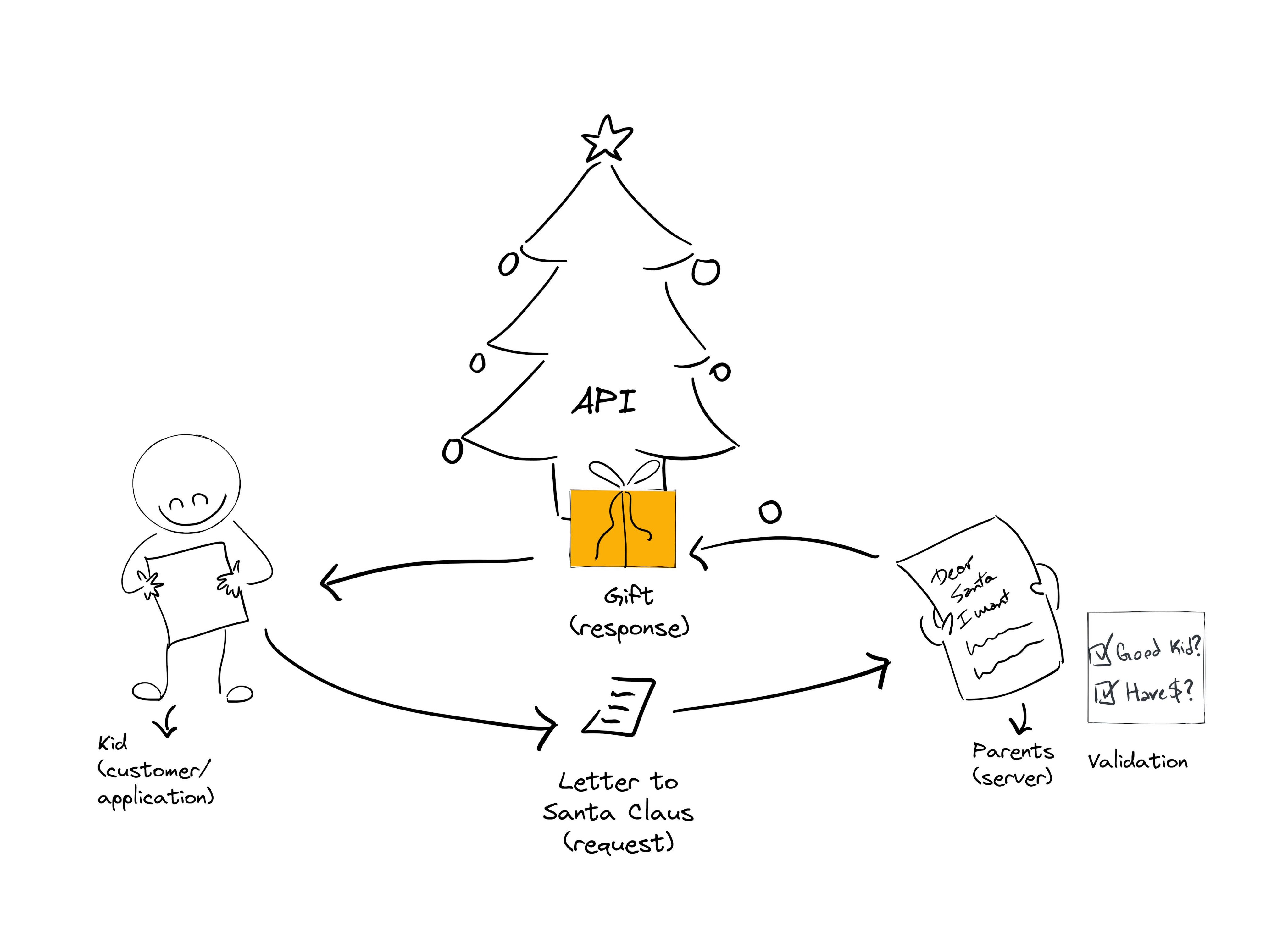 Analogy of an API
Then I realized some implications of this analogy:
- The tree (API) does not check the information
- The timing might be longer for response 😂
Outcomes after 42 days
20 different tools tested

21 categories of learning such as automation, database, data visualization, CRM, API, etc.

35+ projects created
🔗 Visit my no-code journaling for more detail and links.
Reflections
I started the #100daysofnocode challenge with enthusiasm and managed to stick with it for 42 days. I was constantly experimenting with new tools and was having a blast learning new things.
However, after 42 days, I started feeling overwhelmed as I had a lot on my plate with my full-time job, and other personal projects, so I took a break.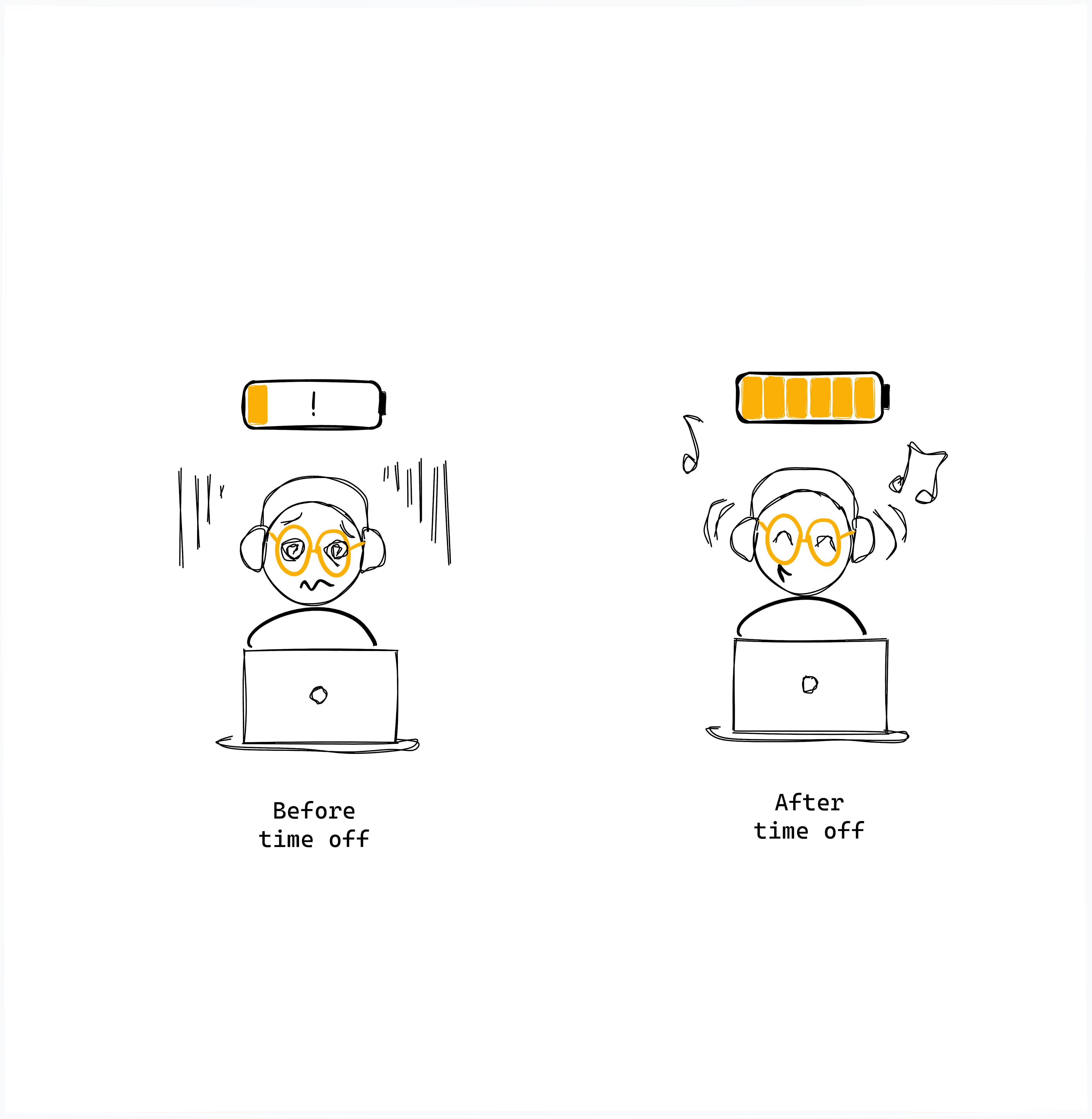 Illustration of when I needed a break to recharge
When I returned to the challenge months later, I realized that the next set of challenges was focused on wireframes and design tools that I already knew. So, I decided to drop the challenge and start exploring new tools on my own.
Although dropping the challenge in the middle felt like a failure, at first, I reminded myself of why I started this journey in the first place and used that as motivation to continue on my own path. Now, I'm more confident and proud of my learning journey, even though it took a different turn.
In conclusion, the 100 Days of NoCode challenge was a great experience for me as a product designer. Through the journey, I learned about the possibilities and limitations of no-code tools, and I discovered many exciting projects that I can use in my future projects.
Here are my main takeaways from this challenge:
No-code tools have immense potential and can reduce manual efforts and increase productivity.

The mental models of coding are still necessary while using no-code tools, so this was a fun way to learn more about the underlying mechanics of computer programming, such as automation, databases, and API.

No-code tools have limitations. Sometimes I had to be creative and adaptive to make things happen. It is important to test different tools to find the right one for a specific project.
---
Let's get in touch
Feel free to reach out for collaborations or just a friendly hello 😄
llaravacco@gmail.com
Designed and built by Lais Lara Vacco in 2023 using Ycode.
Last updated January 2023.
---